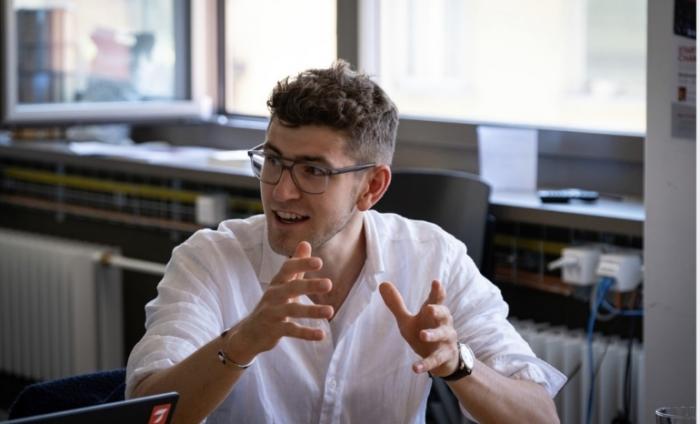 We are delighted to share the news that BSc Management Science alumni turned Ironman Athlete and Boston Consulting Group Associate, Patrik Birkle, has been awarded the Schwarzman Scholarship.
Schwarzman Scholars, one of the world's most prestigious graduate fellowships located at Schwarzman College at Tsinghua University in Beijing. It is a highly competitive and international programme, with Patrik having been selected as one of the 154 remarkable and talented individuals chosen from more than 3,600 applicants, from 39 countries and 99 universities.
Having successfully secured a role in one of the world's leading Management Consulting organisations - Boston Consulting Group – leaving this role to undertake a Master's was not an easy decision for Patrik, but he explains why this was an opportunity he couldn't miss and what he hopes to learn and achieve from the experience. As a keen athlete, Patrick shares his Ironman Triathlon achievements and hopes to one day compete in the World Championship in Hawaii, and how he hopes to combine his two passions of technology and sport to build products that promote and facilitate being physically active and a healthy lifestyle.
Can you tell us what you have been doing since you graduated from UCL School of Management?
After graduating from the BSc Management Science programme in 2018, I spent the summer interning at the Munich-based tech start-up NavVis while preparing for a full-distance Ironman triathlon (3.8k swim, 180k bike, 42.2k run). After successfully completing the race and internship, I actually continued working as an intern, this time at Boston Consulting Group's (BCG) Zurich office, where I eventually received an offer for a full-time position. Since May 2019, I have been working as a technology-focused consultant across Europe helping clients from various industries leverage technology and digital platforms to grow their businesses.
What does the Schwarzman Scholarship entail?
The Schwarzman Scholars programme is a fully funded, one-year Master's degree in Global Affairs and Leadership at Tsinghua University in Beijing. The goal is to bring together future leaders and allow them to dive deep into China, its people, its culture, its businesses and politics. I want to use this experience to understand how China approaches the increasingly relevant problem of wide-spread physical inactivity within its population through technology and public policy. Additionally, I want to use the programme's practical focus on leadership to first understand what type of leader I am and how I can further build on that.
What excites you most about the scholarship?
I am particularly excited about the programme for three reasons; firstly, my fellow future classmates - the diversity in the cohort in terms of geography, educational and professional backgrounds, extracurricular interests and the shared ambition to solve large and meaningful problems excites me the most.
Secondly, getting to know and experience China and Chinese culture. As someone who has never ventured further east than Rhodes island in Greece (which is not really East at all, to be honest), I am incredibly curious to understand how China has become the global power it is, how this has affected its citizens and what its future growth trajectory looks like.
And finally, the programme's experienced and talented academics. The programme offers a wide range of extremely interesting subjects across the domains of public policy, leadership, international economics and development, among others. Apart from an interest in the content covered in the curriculum, I am looking forward to learning from the experiences of former Prime Ministers, Secretaries of State, CEOs and other successful individuals.
Deciding to leave your current role and accept the scholarship must have been a difficult decision. what made you decide to accept this opportunity?
BCG offers great opportunities for people joining with an undergraduate bachelor's degree, however, I had always planned to pursue a Master's degree after a few years of working in industry. The decision of which Master's degree to pursue was a much harder choice. I had the opportunity to follow the typical consulting path and enrol in a number of USA MBA programmes. However, I finally decided to accept the Schwarzman Scholarship because I believe that understanding and experiencing Chinese business and culture will only become more important to be successful in the global business landscape in the future.
Do you think your experience at UCL and the skills you learnt have helped you in your successes?
"How do you want to change the world and why?" – I remember this question being part of the Management Science application. At the time, I was still in secondary school and I found this question confusing, yet exciting. Looking back at the programme itself now, one of the most fundamental ways in which it shaped my thinking was that we can and should tackle global and meaningful challenges.
Apart from providing us with that confidence and outlook, the programme also prepared me extremely well for the working environment. The interdisciplinary education as part of UCL's School of Engineering and the international student body taught us early on to leverage people's specific background and expertise. Furthermore, the Scenario Weeks (which are one-week team projects) allowed us to apply what we had learnt in the classroom to real-world problems under pressure and for a tight deadline – something that I continue to do at BCG.
Can you tell us more about your experience as an entrepreneur in founding Emote Reality?
Actually, UCL School of Management was an important part of my journey in founding Emote Reality – it was our first paying customer. Emote Reality was created to bring physical assets into the virtual world through Virtual Reality. I founded the company during my time at UCL and ran it for almost three years. The experience was one of the greatest ones I have had to date: developing a tech product, recruiting a team, getting rejected by clients, securing our first clients, filing tax reports, and so many more experiences taught me various skills and allowed me to develop important traits. The most important thing I learnt from that time is the value of genuine positivity and energy. I believe being positive and energetic is fundamental to solve problems, work in teams, motivate others and so much more.
What are your future ambitions and career goals?
I am extremely passionate about sports and technology. One of my biggest personal ambitions is to compete in the Ironman World Championship in Hawaii. In a professional setting, I want to combine my passions for sport and technology to build products and services that promote and facilitate being physically active and adopting a healthy lifestyle.
If you could give your younger self one piece of advice, what would it be?
Look left and right at your peers as well as to people at later stages in their careers to see what is possible, but not for comparison.
Who inspires you?
I am not inspired by one specific person but generally by people who display infectious energy, who are able to pursue different ambitions at the same time and who exhibit great care for others.
Learn more about UCL School of Management's BSc/MSci Management Science programme and the Schwarzman Scholarship programme.